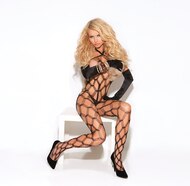 What Are Fence Net Bodystockings?
Fence Net Bodystockings Are The Sexier And More Fun Sister Of Fishnets. A Fence Net Is Just Like The Fishnet, Only With A Wider Weave And Pattern. Meaning, They Expose More Of Your Skin And Look Decidedly Graphic Against Your Body. So If You Want To Look Daring, There's No Better Option Than Fence Net Body Stockings.
Be At Your Most Daring With Fence Net Body Stockings
Fence Net Bodystockings Are Sexy But You Can Up The Sexiness Factor Even More With These Tips:
Wear Fence Net Body Stockings With Another Bodystocking.
Since Fence Net Bodystockings Have Wider Weaves, They Can Showcase Designs Of Other Bodystockings. Here's An Idea: Try A White Opaque Bodystocking Under Your Fence Net Bodystocking.
Incorporate Nipple Pasties When Wearing Fence Net Body Stockings.
Add More Fun To Your Look With Nipple Pasties. The Wider Weave Of Fence Net Bodystockings Will Allow The Design Of Your Nipple Pasties To Show.
Use Sexy Lingerie Under Your Fence Net Bodystockings.
Fence Net Bodystockings Leave You Bear With Nary A Stitch On You. If You Want To Tease Your Man More, You Can Wear A Thong Or A Sexy Bra Under.
Don A Fence Net Body Stocking Under Your Regular Clothes.
Feel Sexier And More Confident In Your Regular Clothes By Using A Fence Net Bodystocking As An Alternative To Your Usual Hosiery. You'll Look Sexier But Still Be Classy With This Naughty Secret Under Your Clothes.
Explore New Styles Of Fence Net Body Stockings. Check Out Our Collection For More Exciting Fence Net Bodystocking Options.