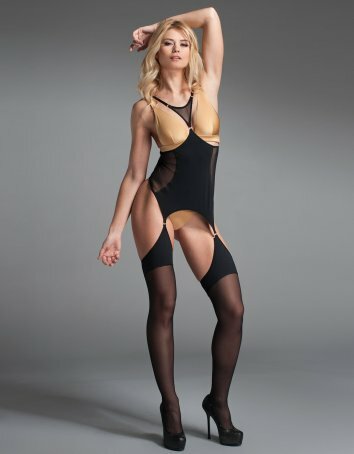 Sexy Times Three In One Suspender Bodystockings. 
Do You Feel Sexy When You Wear Stockings? How About When You Attach Them To Garter Belts? How Sexy Do You Think You Would Feel If The Garters Are Attached To A Sexy Teddy?
It's Three Times The Sexiness With Suspender Bodystockings. Why? Because A Suspender Body Stocking Is A Teddy, Garter Belt, And Stockings All Rolled Into One.
Boost Your Sex Appeal With Suspender Bodystockings
When You Want To Add A Dose Of Fun To Your Sexy Look, Opt For A Suspender Body Stocking. They're Also Perfect If You Can't Decide Between A Sexy Teddy, A Sensual Pair Of Stockings Or A Whimsical Garter Belt.
Bonus: There Are Usually Sexy Cutouts Involved So Your Man's Sure To Appreciate The View.
Here Are Several Reasons You Should Get A Suspender Body Stockings:
A Suspender Body Stocking Highlights Your Cleavage.
Most Styles Have Low Necklines So Your Cleavage Is Displayed Front And Center
Suspender Bodystockings Shows Your Waist.
The Most Common Cutout In A Suspender Body Stocking Is Along The Waist, A Perfect Way To Showcase This Curve.
A Suspender Bodystocking May Show Off Your Abs.
If You Have Ripped Abs, A Midriff-Baring Suspender Body Stocking Will Work Great With Your Figure.
Suspender Body Stockings Expose Your Hips And Buns.
Some Bodystocking Styles Have Cutouts That Show Off The Curve Of Your Hip And The Rise Of Your Derriere For A Truly Desirable Bottom.
A Suspender Bodystocking Ups Your Sexy Style Quotient.
You Can Wear Your Bodystocking With A Pretty Thong Since Suspenders Have Open Crotches. Or You Can Go Au Naturel For A Daring Appeal. Suspender Bodystockings Are Also Lightweight And Ideal As A Layering Piece Or Undergarment.
See What A Suspender Bodystocking Can Do For You. Check Out Our Collection Today For Sexier Finds.